The South Ainsty Archaeological Society (SAAS) was formed in 2006. It is a small local history and community archaeology group covering the southern part of the ancient wapentake of York and the Ainsty. The roughly triangular area lies to the south of the City of York and is bounded by the River Ouse to the east, the River Wharfe to the south and the modern A64 road to the west.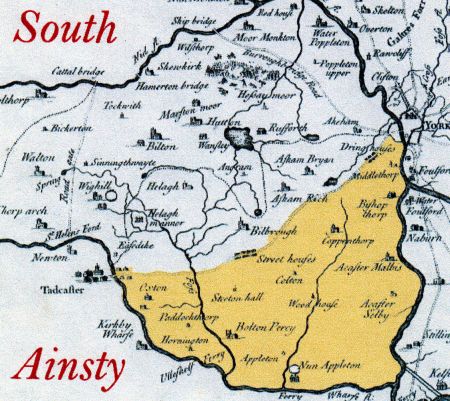 It is a largely rural area with a number of historic villages: Acaster Malbis, Acaster Selby, Appleton Roebuck, Bolton Percy, Colton and Copmanthorpe, and some smaller hamlets.
Our logo is a medieval carved stone head found when a medieval hall in the centre of Copmanthorpe was demolished in the 1960s. We suspect it came originally from the Knights Templar preceptory on the outskirts of the village.
In 2012, the Society merged with the Ainsty Villages History Group, which was originally formed for an oral history project in the villages of Acaster Selby, Appleton Roebuck and Bolton Percy. The Ainsty Villages Archive is based on the photographs collected during the project, with further images collected for projects in other villages.
We hold regular lectures throughout the year, including the Marjorie Harrison Memorial Lecture at our AGM in April. Marjorie was a founder member of the Society and a well-respected local historian.
We also organise visits and undertake fieldwork. We have carried out historical research which we disseminate through exhibitions and publications. Copies of our book From Coppenthorpe to Copmanthorpe are available to buy.
If you are interested in joining, contact our Membership Secretary via our contact page. Membership costs £8 a year.
The Committee
The Society is run by a small committee consisting of:
Chair: Catrina Appleby
Secretary: Chris Robinson
Treasurer: Roy Pawsey
Membership Secretary: Mike Rogers
Kay Murphy
We are always looking for new committee members – it's not particularly onerous, but new blood is good!